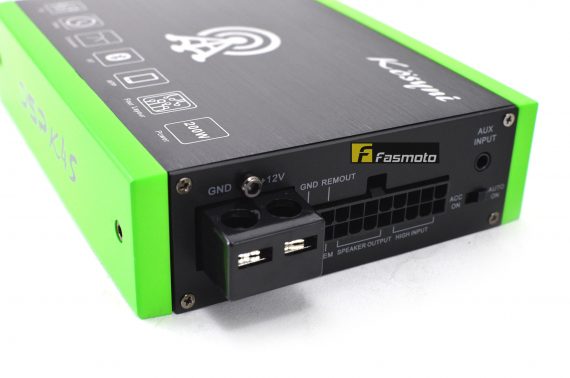 The Kosyni DSP K4S is THE solution when it comes to adding extra power and control to your car's sound system with ease. Your factory car audio system very likely comes with some compromises due to the components used. In many cases, the factory head units has had its EQ pre-set from the factory to keep the reliability of the speakers. This unfortunately means that the audio output has been compromised in one way or another.
In order to be able to fix this, we would usually recommend upgrading the head unit and speakers. However, in many modern cars today, the head unit is integrated to vehicle systems, such as climate controls, cameras, sensors and such, that it makes replacing the head units a big hassle. The Kosyni DSP K4S is perfect in these cases as it will allow you to correct the compromises and you are able to realise the full audio potential of your system without having to replace your factory head unit.
Furthermore, with the Kosyni DSP K4S, you will also have the ability to connect to additional amplifiers via the 6 channel pre-outs to make use of even higher performance amps and speakers.
How it Works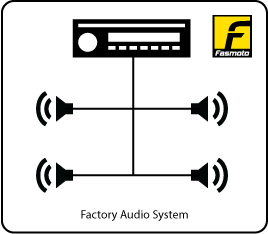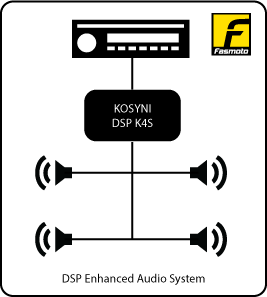 The Kosyni DSP K4S come with factory harness for certain popular car makes and models. This makes the installation a breeze. Just plug it in, run the app and fine-tune the system.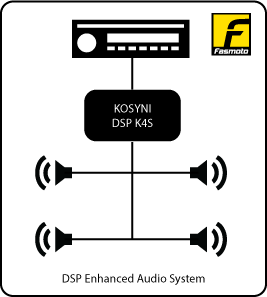 Should you choose to add amplifiers to your system, the Kosyni gladly accomodates with 6 channel low-level outputs. This would mean you have the ability to add even higher grade amplifiers and speakers to your system.
App Features
Specifications
Channels : 4 Hi-level (amplified) / 6 pre-outs
Circuit : Class-D Digital
RMS Power : 4 x 50W
Frequency Response : 5Hz – 20KHz
Damping Factor : >100
Signal-to-Noise Ratio : >98dB
Channel Separation >60dB
THD&N : 0.05%
Input Impedance >22kOhms
DSP Processor : Cirrus Logic Single Core 32-bit, 6-channel, 192kHz
High Level Inputs via Cable-set : FL/FR/RL/RR
Additional Inputs : Aux (Cinch/3.5mm jack, stereo), Bluetooth CSR4.2
Auto Turn On Function : Switchable while using, a +12v turn on signal for additional devices is provided to the REM cable
Fuse Rating : 1 x 25A
Dimensions (Width x Height x Length) : 97 x 36 x 149.5mm
*Technical specifications are subject to changes. Errors are reserved.
Box Contents
Mainframe x 1
Manual x 1
Connector Wire x 1
Mounting Base x 4
Mounting Screws x 4