Compiled by www.independent.co.uk
RAC 1000 sat nav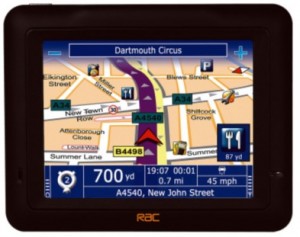 Remember when sat navs were impossibly expensive? As with the most coveted technology, sat navs have quickly became affordable, and for those who simply want to get form A to B, this RAC branded model may be the most cost-effective way to avoid getting lost. It is one of the cheapest on the market, but is still adequate for most drivers' needs with a 3.5″ touch screen display; UK and Ireland street level mapping; and safety camera data. Plus 30 per cent off breakdown cover is included within the box.
£59.99, www.halfords.com
Kärcher K5700 compact pressure washer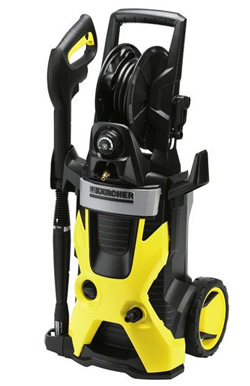 About the only way to make washing the car interesting is to invest in something that turns the job from a chore into play time. Kärcher's new "X" design pressure washers are extraordinarily powerful and have a high tech water cooled motor. The range features a "plug and go" detergent system, variable length lances, cable storage and, on the top of the range K5700 model, a hose storage reel. Kärcher pressure washers produce from 120 Bar – 140 Bar maximum pressure, more than sufficient for your car, patio, driveway, garage door, house exterior and possibly civil disturbances (not recommended).
£299.99, www.karcher.co.uk
Autoglym surface detailing kit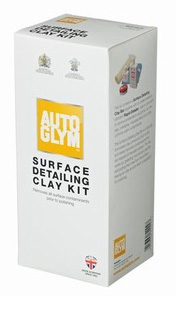 As used by Jaguar, Aston Martin and many other discerning customers, Autoglym products have long enjoyed a reputation for excellence. Given the amount most of us spend on a car it seem churlish not to want to spend a little time, effort and cash on enhancing its appearance (and its resale value). Autoglym's "deep clean" system uses clay to help lift contaminants bonded to the car's paintwork, such as bird mess, tar, tree sap and industrial fallout. The kit contains everything to properly prepare your paintwork before waxing: surface detailing clay bar, rapid detailer spray, super resin polish, perfect polishing cloth and a microfibre cloth. To achieve the definitive and lasting finish after using the clay kit, Autoglym recommends that customers apply their high definition wax.
£25.99, www.autoglym.com
Navman Spirit V505 sat nav television system
For a remarkably good price, this navman system combines sat nav and digital television with built in freeview. It has a wide, flat display, and has auto-tuning, which should make it easier to set up. There's a seven-day electronic programme guide, which may come in handy if you're the sort of person who is so organised that you know when you'll be in the car days ahead of time.
If you get bored with the television then of course you can enjoy the sat nav's 3D Junction views and lane guidance, travel books and text to speech function that speaks the road name of your next turning.
The Spirit has a 4.7in widescreen, slim, lightweight design and TruMap views. It switches between exploring and walking modes, and boasts economical routing, photo navigation, capture features that identify your location and journey, high-speed GPS fix and road speed limit data. It also offers the latest guaranteed map data.
£179.97, laskys.com
Digital alcohol breath tester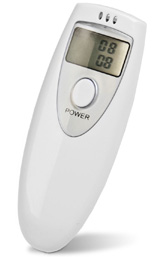 Obviously you should not drink at all if you intend to take charge of a vehicle and that includes the morning after the night before. However, for those borderline cases where you have taken all reasonable precautions and may still be unsure about your alcohol levels, this gadget could help you determine whether you are safe to drive. However, the result of this test is for reference only; no-one will take responsibility if it is wrong, so you need to apply common sense as well as abstinence, and obey the law. As ever, don't drink and drive!
£12.99, www.iwantoneofthose.com
Murray Comet pedal car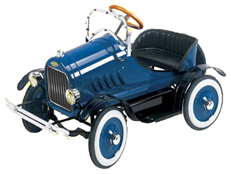 A vision of Fifties pink excess, and a classic design. This is a rather old school machine, based on a Fifties design, made in China and redolent of times past. Whereas most pedal cars are plastic nowadays, this one is built from heavy gauge steel, and features chrome windshield, grille ornaments, headlights and hubcaps, as well as solid rubber tyres on 8in steel wheels. The body and undergear are finished in lead free, child safe powder coating.
It's a big toy at 17in wide, 39in long, 21in tall and comes fully assembled – just take it out the box, and start pedalling. Mind you, although it's recommended for children from two to six years old, its heavy and not always that user-friendly.
£149, www.classic-pedalcars.co.uk
Sony DVPFX730R-red DVD player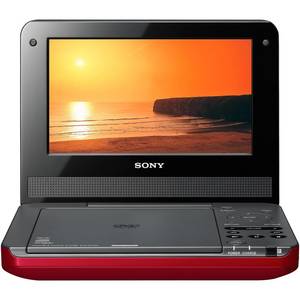 A proven method of quietening fractious juveniles, this Sony has the great advantage that its batteries are likely to last more than the movie they're watching. Some five hours of battery life ought to buy some peace for most journeys, and this machine is commendably compact: less than 8in wide, 6in high (when fully opened for viewing) and an inch and a half thick when closed. It works with a variety of media, including most DVD formats as well as DivX encoding, plus it can display pictures and play MP3s through its USB slot. The car battery adaptor and AC adaptor are useful recharging options.
Sony helpline: 08705 111 999
£149, Very.co.uk
England dice
Will England throw a double six in South Africa? By the time the World Cup kicks off in June, car-related England memorabilia will be a possibly too-familiar sight once again. Halfords are slightly ahead of the pack on this one, and their version of the traditional furry dice uses the cross of St George to add a patriotic touch. They are so immensely tacky that the space-time-taste continuum collapses in their presence, and they appear cooler for it. But where's the Brazilian version?
£2.99, www.halfords.com
Alfa art
Did you know Alfa Romeo had an "official art collection"? Its to celebrate the marque's centenary, and their limited edition prints seem as stylish and tasteful as some of the wonderful car s the firm has produced in those 100 years. This one caught our eye, featuring an Alfa Romeo Montreal, circa 1975, is by Akiko Yodogawa and part of an edition of 150 items. Even if you're not especially into Alfas or indeed cars, they look pretty funky. Not so much Milan as Shoreditch, we reckon.
Around £200
Mini cuckoo clock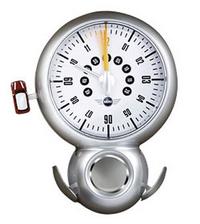 Whether the 1959 original or the new, bigger model, the Mini's big central speedometer has always looked a bit like a clock. Indeed, some Minis were so slow that the speedo needle seemed to move at the same pace as a timepiece. Anyway, under its new BMW owners, the speedometer has fulfilled its destiny and been turned into a wall clock. Perhaps unsurprisingly given BMW's Bavarian origins, a cuckoo clock version has been released. On the hour, a Mini emerges from a "garage" and makes car engine and hooter noises as it drives "round the clock". It deserves to be as big a hit as the car. (There's also a digital version you can load onto your computer desk top, for free).
£79.95, from Mini dealers