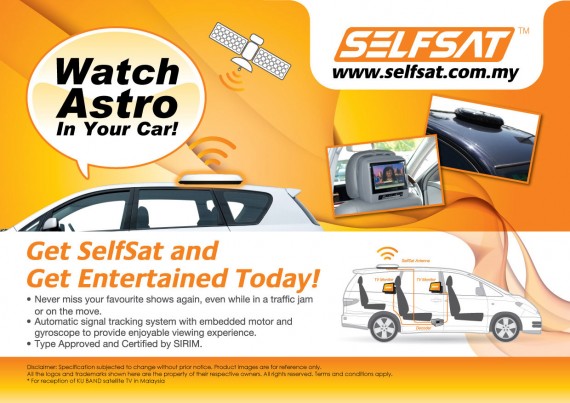 With SelfSat, you can now take LIVE satellite TV channels on the road with you. Get great entertainment while taking that long journey, or even when you're stuck in traffic. It's so easily installed and convenient, your car can now be your favourite entertainment centre. Get SelfSat and get complete entertainment on the move today
About SelfSat
SelfSat in-motion Satellite Antenna is a portable antenna system that delivers LIVE satellite TV content to a vehicle, even while in motion. All you need is a decoder and a satellite channels subscription, and you'll be on your way to great entertainment on the go!
Never miss your favourite shows again, even while in a traffic jam or taking a long journey.
Experience automatic signal tracking system with embedded motor and gyroscope.
Also available in BLACK & SILVER. Select from drop down menu below before adding to cart.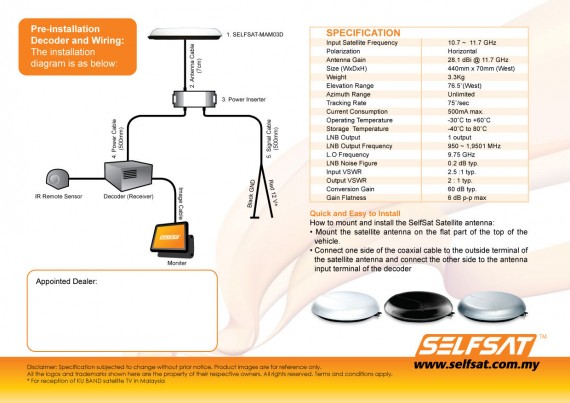 Quick and Easy to Install
How to mount and install the SelfSat Satellite antenna:
Mount the satellite antenna on the flat part of the top of the vehicle.
Connect one side of the coaxial cable to the outside terminal of the satellite antenna and connect the other side to the antenna input terminal of the decoder.
Download Installation Manual
Download PDF brochure
Vehicles equipped with SelfSat Gallery