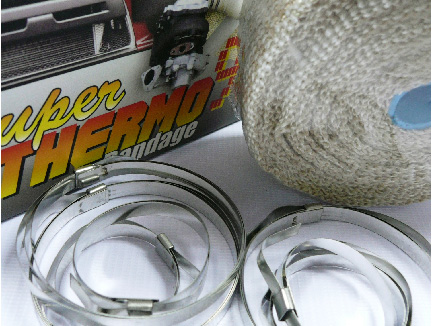 ZERONE Super Thermo Bandage 950
ZERONE SUPER THERMO BANDAGE 950 was designed, developed & tested over 10 years ago. Exhaust insulating bandage is an innovative way of retaining heat in your exhaust system, creating more horsepower & reducing under-hood temperature. Not only it maintains exhaust gas heat thru low density, it also generates a greater exhaust scavenging along with lower intake temperature. Made of fiberglass material which is able to withstand 1200F continuous heat up to 2000F peak. It will also prolong the lifespan of fan motor due to low temperature control. ZERONE SUPER THERMO BANDAGE 950 will not over insulate a system when properly installed due to a proprietary coating that conducts heat across the wrap's surface. This coating control heat build-up and dissipation.
Available in 7.5 meter (length) / 35mm (width).
* Note: It is normal to see smoke from the wrap for 1-2 hours on initial usage……