Established 1946, Jun has come a long and a successful way to become what we are today with our continuous ambition and consistent approach to developing, designing, manufacturing, and processing parts for internal combustion engines.
Jun Racing Technology is the leading brand in design and manufacturing of auto parts and braking systems for high performance cars, both street and competition, as well as commercial vehicles. The state-of-the-art processing machinery, we have the production of good quality and high precision products, and techniques developed over 60 years of experience in JUN.
In 2012 marks a great milestone achievement as Jun Racing Technology in collaboration with our counterpart in Japan is finally here in Malaysia to cater our high performance auto parts to all our fans, customers in Malaysia and overseas.
Performance, Comfort and Design are the values which distinguish the brand and make Jun products the most prestigious components in the world.
The history of Jun Racing Technology has always been a legacy of the pursuit of better safety, victory and style.
Performance
Special Heat Treatment
For the long or short distance drive,the normal or slotted rotors surface will usually expand or contract causing small cracks (heat cracks) to occur after a period of time. And therefore reducing the friction efficiency, Jun Racing Technology has come out with a special heat treatment technology to performed in advance to stabilize the components of the rotors itself to greatly decrease heat cracks during driving. With this technological breakthrough this will expand the lifespan of the rotors and give the driver a peace of mind for a long term usage.
Long Slits and Curves
Long slits aligned  on the slit with the word E, called " E SLIT ROTOR". The E-Slit will smoothly shave the pad and  resulting in a fast and efficient braking force to slow down the vehicle and still maintain the brake pad in desirable condition.The advantages of the "E SLIT ROTOR"  are also proven  to expel water in wet conditions,as well as removing dust and debris along the way.When the long slit disappears together with  the letter "E" rose. Replacement should be done immediately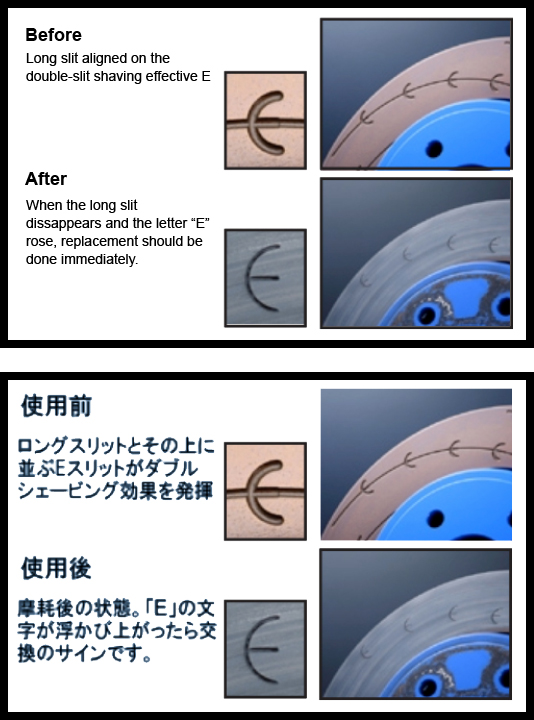 DISC ROTORS COMPARISON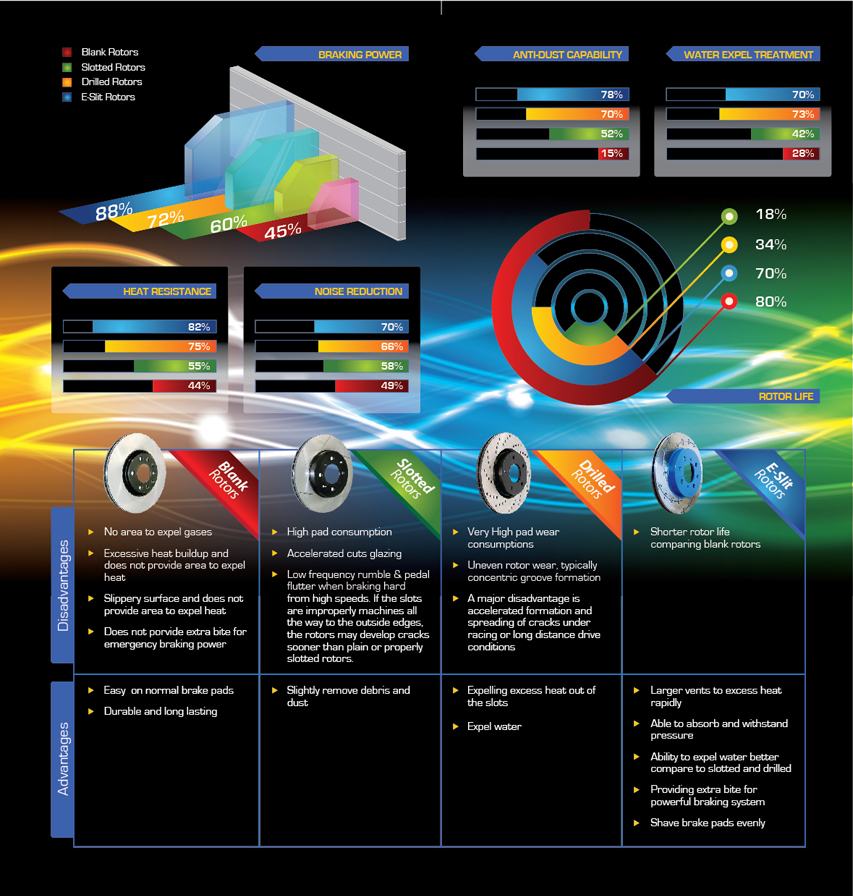 Jun Brake Rotors are available for various makes and models:
JUN Brake Disc Rotors, Honda Accord (SDA) 2.0/2.4L '03-'07 (Front, 1 Pair)
JUN Brake Disc Rotors, Honda Civic (S5A) 1.7L '01-'03 (Front, 1 Pair)
JUN Brake Disc Rotors, Honda Civic (S5G) 2.0L '03-'05 (Front, 1 Pair)
JUN Brake Disc Rotors, Honda Civic (SNA) 1.8/2.0L '06-'11 (Front, 1 Pair)
JUN Brake Disc Rotors, Honda Civic EG6 2Door 1.6L '92-'95 (Front, 1 Pair)
JUN Brake Disc Rotors, Honda Civic EG9 4Door 1.6L '92-'95 (Front, 1 Pair)
JUN Brake Disc Rotors, Honda Civic EK4 2/4Door 1.6L '96-'00 (Front, 1 Pair)
JUN Brake Disc Rotors, Honda Integra (DC2) 4x100PCD 1.8L '92-'96 (Front, 1 Pair)
JUN Brake Disc Rotors, Honda Jazz (SAA), Fit (GE), City (SEL) 1.4/1.5L '03-'08 (Front, 1 Pair)
JUN Brake Disc Rotors, Mitsubishi Lancer (CY4A) 2.0L '95-'99 (Front, 1 Pair)
JUN Brake Disc Rotors, Perodua Myvi 1.0/1.3l, '05-'11 (Front, 1 Pair)
JUN Brake Disc Rotors, Proton Inspira (GS41) 1.8/2.0L '10-'11 (Front, 1 Pair)
JUN Brake Disc Rotors, Proton Perdana 2.0L '95-'99 (Front, 1 Pair)
JUN Brake Disc Rotors, Proton Perdana V6 2.0L '99-'11 (Front, 1 Pair)
JUN Brake Disc Rotors, Proton Putra 1.8L '97-'00 (Front, 1 Pair)
JUN Brake Disc Rotors, Proton Satria GTi 1.8L '99-'02 (Front, 1 Pair)
JUN Brake Disc Rotors, Proton Waja 1.6L '03-'06 (Front, 1 Pair)
JUN Brake Disc Rotors, Proton Waja Campro 1.6L '07-'11 (Front, 1 Pair)
JUN Brake Disc Rotors, Proton Wira 1.8L '95-'98 (Front, 1 Pair)
JUN Brake Disc Rotors, Suzuki Swift 1.5L '06-'11 (Front, 1 Pair)
JUN Brake Disc Rotors, Toyota Camry (ACV40) 2.0/2.4L '08-'11 (Front, 1 Pair)
JUN Brake Disc Rotors, Toyota Vios (NCP42) 1.5L '03-'07 (Front, 1 Pair)
JUN Brake Disc Rotors, Toyota Vios (NCP93) (E&J Spec) 1.5L '08-'11 (Front, 1 Pair)