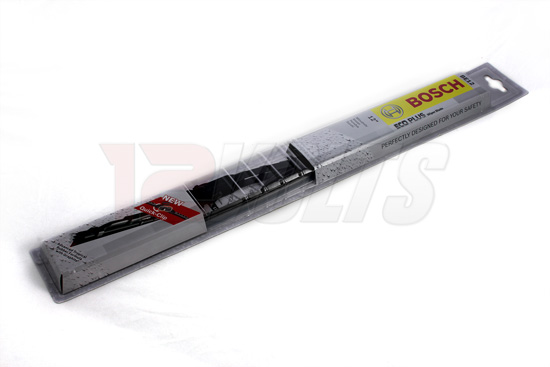 Bosch ECO wiper blades combine high quality and low cost for an
economical alternative to refills. Combining the Quick-Clip connector
system for easy installation, rivet joins for increased stability and a
new formulation natural rubber for high durability, ECO will provide a safer and easier solution than refills.
Unique Features
Due
to the low cost of the wiper blade and the durability of the rubber,
ECO are non-refillable as the wiper blades have a longer life than
refills. This makes them a safe and economical choice
High Wiping Performance for Safe Driving
50% increase in wiping performance versus refill replacement
Precision cut natural rubber wiping edge
Long Life
Full metal frame construction
Easy Installation
Easier to fit than refills due to the patented Quick-Clip connector system
For vehicles built from 1955 – 1995
The Quick-Clip connector system
Bosch innovation has led to the creation of the new Quick-Clip method
that enables Bosch Micro Edge Wiper Blades to be fitted to most
vehicles.
Bosch Micro Edge Wiper Blades come with the universal Quick-clip
connector system enabling quick and easy installation on a wide range of
vehicle types.
It is the only system which fits both hook and prong wiper arm types without additional adapters.