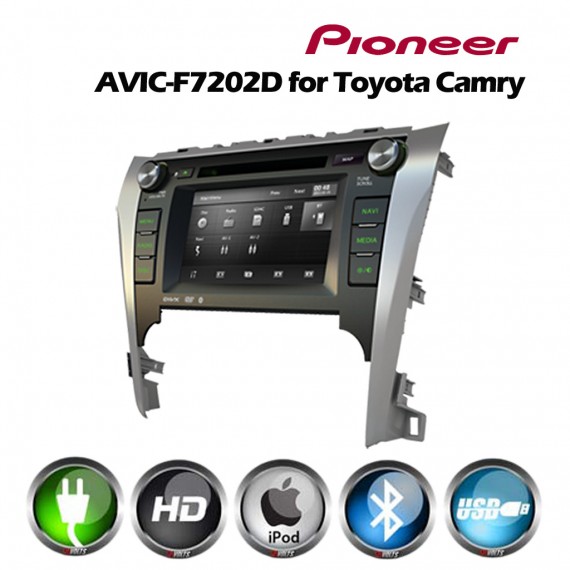 Key Features
Made for the Toyota Camry 2012 Onwards
7″ Wide VGA Touch Panel
Play Video and Audio from DVD/CD/USB and SD memory card
Supports MP3/WMA/JPEG/DivX
GPS Navigation powered by Papago X8.5 (Original License)
Plug-N-Play. No need for any wiring modifications nor additional installation trims.
Reverse Camera Supported
Enjoy 5.1 Dolby Digital Surround Sound by adding an amplifier, subwoofer and a centre speaker
Answer and make calls via Bluetooth
Stream music and control your audio from your audio device via bluetooth
Multi-language interface. Select between English, Chinese (Simplified) and Chines (Traditional)
Built-in Amplifier. MOSFET 50W x 4
16-Band Graphic Equalizer
1 Audio/Video Input
1 Composite Video Output
Dual Zone Audio/Video
What We Think
The Toyota Camry has always been a favorite amongst drivers, so it isn't a surprise that Pioneer picked the all new Camry 2012 model to be included into the Perfect Fit Navigation Systems. For anyone in the know, the Camry is one of the favorite models by the aftermarket stereo manufacturers. Therefore you are spoilt for choice when it comes to picking a unit for your Camry. However, we suggest you take much care and deliberation in picking yours as the amount of good stereos out there are outnumbered by the amount of crappy ones. Happy Hunting!
Nevertheless, we at 12v aim to make searching for a reliable and quality unit hassle-free for you, our beloved customers. Let's take a look at the Pioneer AVIC-7202D. First off, I must say that once again, the built quality on the Pioneer's are second to none. No cheap plastics nor second grade workmanship here. Everything is top notch, from the buttons feel and fitment clips to the finishing.
The 7″ Touch Panel screen looks very good. However, we wished Pioneer would have instead gone for an 8″ screen because there seems to be ample space for it. Nevertheless, the 7″ screen is by no means insufficient. Everything is clear and sharp. Everything else about this unit is pretty much the same as the Pioneer AVIC-F7121 for the VW Polo which we had reviewed earlier.