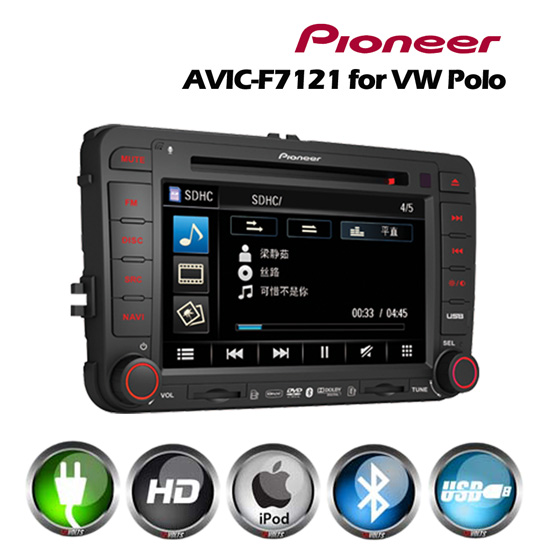 Key Features
7″ Wide VGA Touch Panel
Play Video and Audio from DVD/CD/USB and SD memory card
Supports MP3/WMA/JPEG/DivX
GPS Navigation powered by Papago X8.5 (Original License)
Plug-N-Play. No need for any wiring modifications nor additional installation trims.
Reverse Camera Supported
Enjoy 5.1 Dolby Digital Surround Sound by adding an amplifier, subwoofer and a centre speaker
Answer and make calls via Bluetooth
Stream music and control your audio from your audio device via bluetooth
Multi-language interface. Select between English, Chinese (Simplified) and Chines (Traditional)
Built-in Amplifier. MOSFET 50W x 4
16-Band Graphic Equalizer
1 Audio/Video Input
1 Composite Video Output
Dual Zone Audio/Video
What We Think
The Pioneer AVIC-F121 is possibly the best upgrade you can have for your VW Polo. The built quality is superb as you would expect with Pioneer. The fit is excellent, which is probably the reason why Pioneer calls it the "Perfect Fit" system. It matches the VW Polo interior very nicely. Sound quality is greatly improved as the higher powered output from the built-in amp is able to supply sufficient power to the speakers. Even with the factory speakers, sound quality is greatly improved. However, we at 12v always recommend upgrading the factory speakers to better aftermarket speakers.
The Papago X8.5 is very easy to use. The 3D, junction view and split views makes navigation so much easier.
The display looks brilliant and the screen reacts instantaneously to the touch. We also like the easy access of USB & SD slots. The multi-language interface definitely makes using the unit a lot more convenient. Overall, we think this unit highly recommended as it improves the overall enjoyment and convenience of everyday driving.