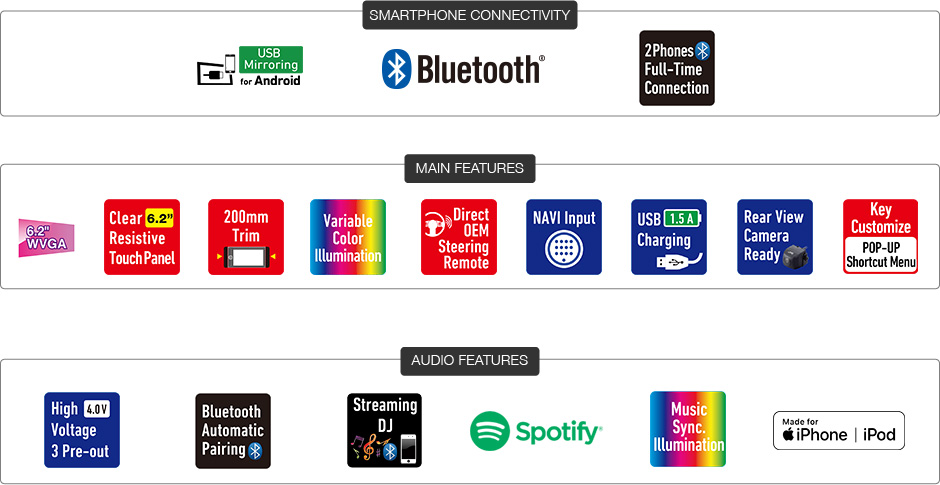 The JVC KW-M450BT is a 200mm unit that fits cars which require a wider receiver than the standard 180mm 2-DIN unit. It would fit most Toyota vehicles without the need to add any side trims or modifications to the face panel. The Perodua MyVi 3rd Gen also uses the same 200mm width dimension for their receivers, no dashboard kit required.
If you're looking for a unit that supports USB Mirroring between your mobile device and the receiver at an affordable price, this would be it. The price point is lower than the other USB Mirroring units in the market because this unit does not come with CD/DVD playbacks- perfect for people who've lost their CD collections when their ex-girlfriends moved out.
The KW-M450BT also doesn't come with Apple CarPlay and Android Auto, which also explains why the price is below one grand. It also only supports one rear camera. I am not really a fan of having too many cameras in a sedan car. If you cannot see what's right in front of you, it's probably a good idea for you to be on the passenger seat. If you are driving a truck or bus, then I can totally understand the utility of front and side cameras. Other than that, it's an overkill and an unnecessary distraction for competent drivers.
This unit is a 6.2″ screen with clear resistive touch screen. The 3 RCA Pre-outs are rated at 4.0V, which means if you're going to upgrade your setup with an amplifier, it's going to be a breeze. This unit also synchronizes with your Spotify playlist, which is becoming the status quo for most receivers these days. And if you are not on Spotify, you can always just stream music from your phone using Bluetooth.
For an entry level 200m receiver, this unit is really bang for bucks.