How do I decide on which head unit to get?
So, you've decided that your car stereo system just isn't cutting it. Or perhaps its busted and you need to replace it. Thankfully, with the break-neck pace of technology advancement these days, there is a plethora of systems to choose from with all sorts of functions from basic AM/FM to high-end WI-Fi capable systems. It can be intimidating and overwhelming trying to decide. Hopefully this article will help you understand and narrow down the choices to come up with a candidate.
There a few factors to consider before being able to decide on the right car stereo system. I've broken these down to 3 main categories. Some are physical limitations and some are based on preference or needs.
For those who don't know, the car stereo is also referred to as receiver, head unit, CD player and DVD player. It is all referring to the same thing which is the unit in your car that either plays CD's, DVD's or just tunes in to FM Radio stations.
1. Choosing between Single Din, Double Din or OEM Fit head units
SINGLE DIN
Single din units come in a variety of brands, features and functions. Some of the features and functions include:-
WMA, MP3, AAC, FLAC playability
CD, USB, SD card input capabilities
Auxiliary input
DVD, VCD, DivX Playback (an additional LCD screen is needed for units without the in-dash motorized LCD Monitor)
Bluetooth Hands-free and music streaming
Ipod/Iphone control
5.1 Surround Sound
AM/FM/SW Stereo
Check out some of the single din head units in our store
DOUBLE DIN
Double din units typically have all the features the single din units have. The biggest difference would be the LCD touchscreen. Some standard features of the double din include:-
HD LCD Touchscreen in a variety of sizes such as 6.2″, 6.5″, 7″, 8″ and 9″
GPS Navigation (either built-in or add-on module)
Steering Control support
Built-in TV Tuner
Reverse Camera and/or Front Camera capabilities
Choices for double din head units on fasmoto.com.
OEM Fit (Sometimes called Factory Fit or Perfect Fit by manufacturers)

These days, many cars no longer come with the standard single or double din size. They are designed to fit in and blend in with the dashboard design. If you are lucky, some manufacturers do produce units that will plug-n-play to your vehicle. What this means is that you do not have to go through rewiring the harness as they will just plug in and work.
Another option you have (depending on the car) is getting an installation trim kit that will enable you to either install a single or double din units. Below is an example of such a kit.

Sometimes, the choice between single, double din or OEM fit is set by the physical limitation of what is available and will fit the car. See the next section on fitments to get a better picture.
Take a look at our factory fit head units and installation trim kits on fasmoto.com.
2. Fitments
Once you have considered the above, the next step is to figure out what will fit. If you are willing to have custom work done to fit the unit, then it will not be an issue. However, if cutting up panels isn't your thing, then there are solutions out there which may work for you. Take a look at your dash, and see if you have a rectangular opening. Here are some examples of what I mean.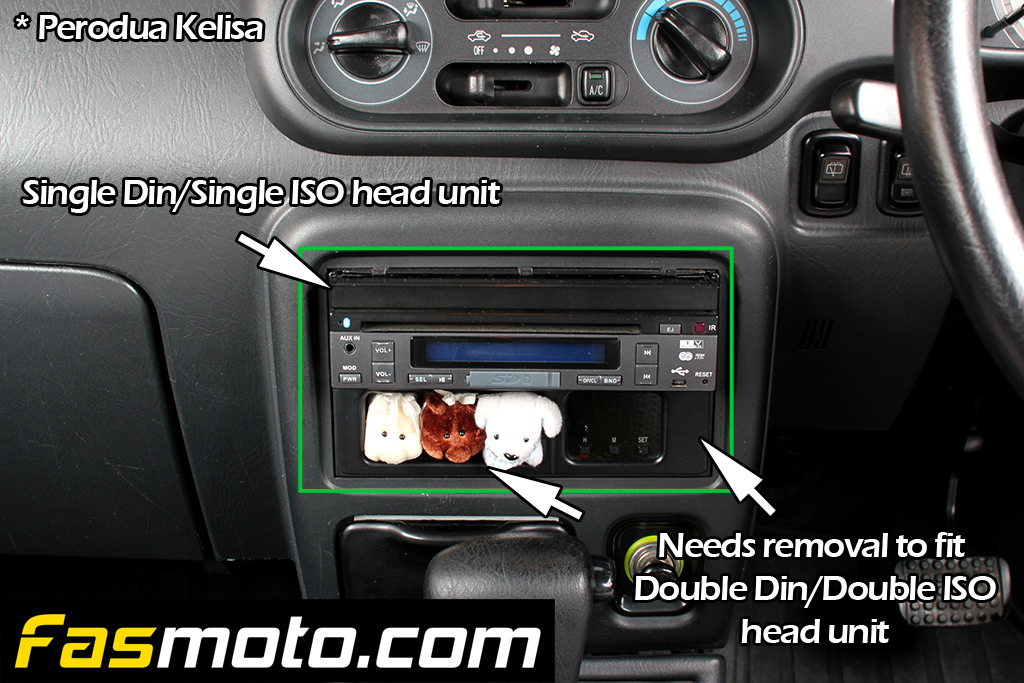 Many cars, especially older Japanese models, come with the ability to fit single or double din as seen above in a Perodua Kelisa.

Older European car models will typically only take a single din like in the image above of the BMW E36. Some do take double dins but its not as common.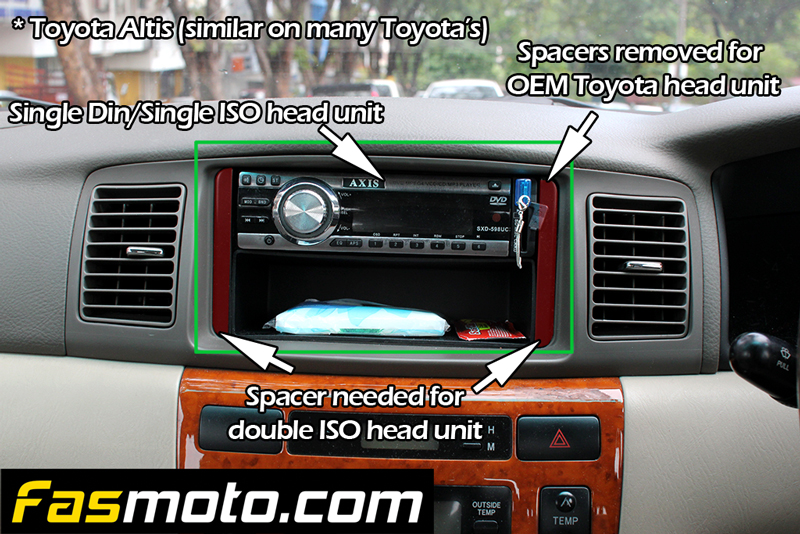 The Toyota Altis in the photo above is my favorite as it will take a single din, double din and even Toyota's custom 200mm din which is about 20mm wider than typical double dins.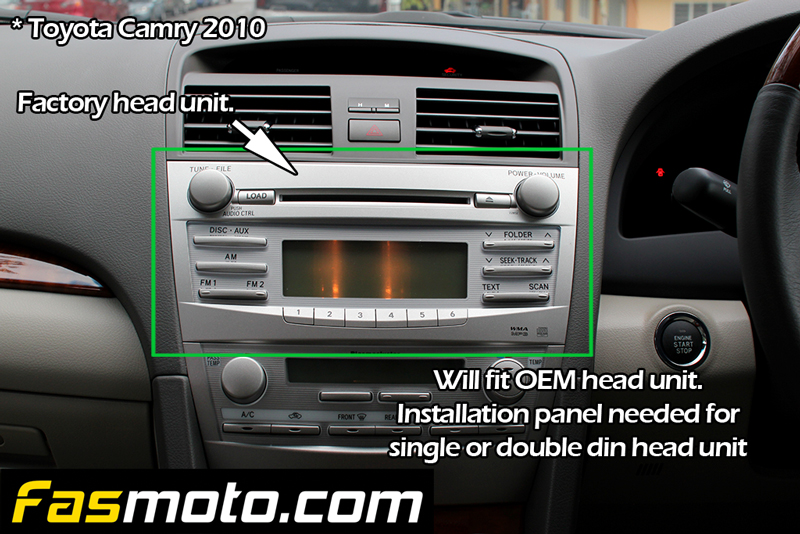 Above is an example of a OEM Fit (Factory Fit or Perfect Fit by manufacturers)
You will need to determine if your car will fit single din or double din or both. Sometimes referred to as single ISO or double ISO size. (refer to pic above)
For the double din, there are 2 common sizes. The double ISO and the OEM Toyota size (sometimes referred to as the 200mm size). The double ISO is the common size found in most vehicles. Branded head units are usually this size. The OEM Toyota size is usually found in Toyota's (stating the obvious here :P). They are wider than double ISO by about 20mm. Another difference to take note of is the rounded edges they have as opposed to the sharp edges of a double ISO.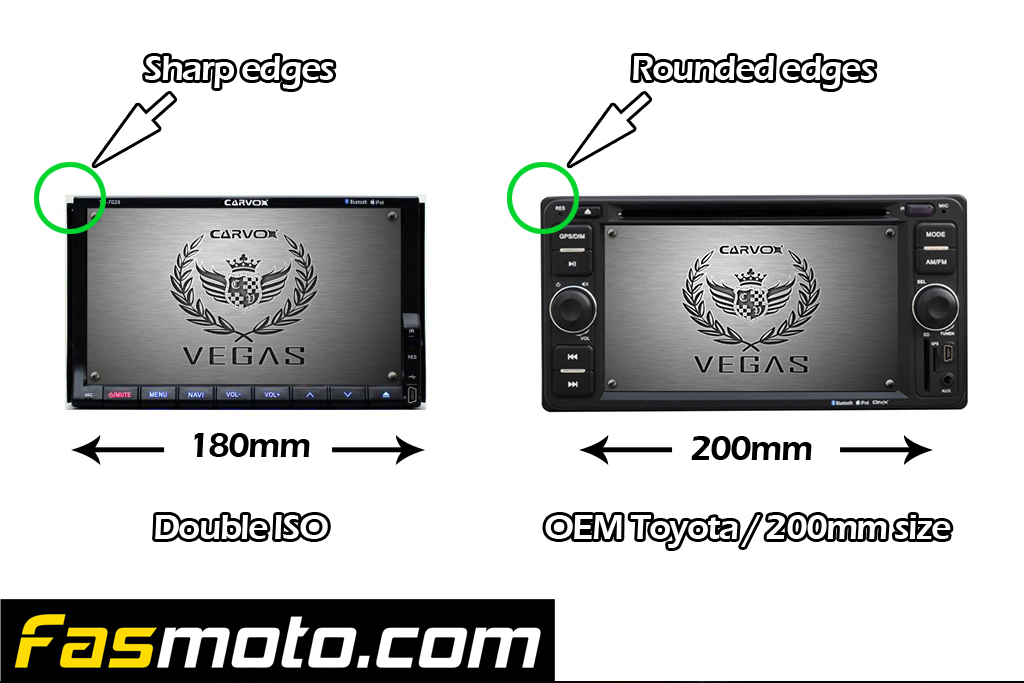 Double ISO and OEM Toyota Comparison. Some Toyota's will fit double ISO players, but will need spacers to cover the gap on each side (see Toyota Altis image above)
If you do not have the mentioned rectangular opening as mentioned earlier, you may consider an installation trim kit (installation casing to some). They look like these.
Honda Civic Installation Kit

Toyota Vios Install Trim Kit
HANNS HS-30-016 Factory Fit Head Unit for Honda City 2014 with GPS Navigation

Kenwood DNX535VBT for Volkswagen Golf, Passat, Jetta and more

Pioneer AVIC Head Unit for Toyota Camry
If there are no OEM head units made for your car, then the only final way is to do custom work to fit the units. Get a reputable installer to have a look and advise on the work needed. In most cases, trimming and cutting the original dash will be required.
3. Head Unit Wiring Harness
Now that you have figured out the fitment for your vehicle. The next thing to consider is the wiring harness. The harness is basically wires with sockets at the end that connects the head unit to your vehicle. The common ones found in most cars are the ISO sockets. But more recently, many car makers have been doing away with the standard ISO sockets and using their own design sockets.
Here are some examples:
BMW / VW wiring harness (female)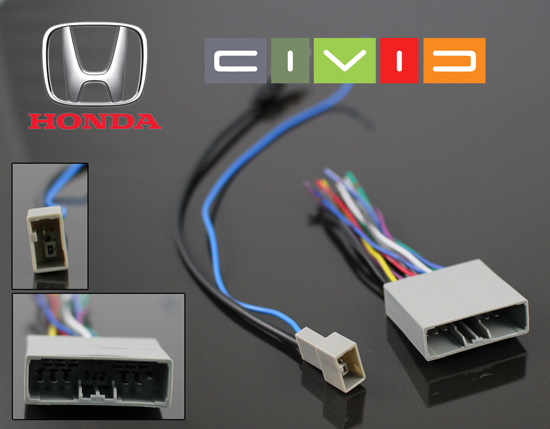 Honda Civic Head Unit Wiring Harness (female) with Antenna Adapters
If you have opted for OEM fit units, then you don't even have to read any further as these units will have all the proper connectors necessary to plug in to the vehicle.
However, if you have opted for other than a OEM unit, then you may want to find out what harness is provided. Then compare that to the harness from your vehicle. If it isn't a match, then some cutting and rewiring will be necessary. However, if you are worried about cutting anything on your vehicle, then you can purchase a wiring harness socket. What this does is it allows for the cutting and rewiring to be done on the head unit side, so no wires on the vehicle side will be cut.
Alright, you have come this far, so what next? Ideally, with all the information you have, you would be able to narrow down your search to a handful of units that will fit your needs and vehicle. The next logical step would be to narrow it down further based on your budget and finally decide on one! Hope this has been helpful and good luck in your pursue of the perfect Head Unit!!