The Company
S-OIL, established in 1976, has grow n into one of
the most competitive oil refiners in the Asia-Pacific region by establishing profitability- oriented management strategies and nurturing dynamic and progressive spirit in the management. The company operates the oil refinery facility with the capacity of 580,000 barrels per day(BPD), and other facilities that can produce petrochemicals and lube base oil in the Onsan Refinery in Ulsan. S-OIL is strengthening its status as a leader in protecting customers and the environment by producing and supplying the best quality oil products based on the world-class Bunker-C Cracking Center(BCC) and the Xylene Center, a PX plant with the world's highest production capacity for a single facility.
Ultra-S base Oil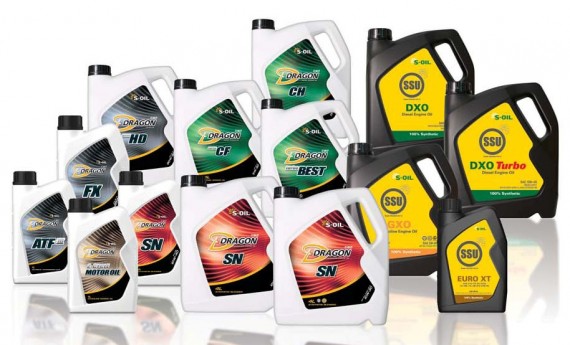 The Ultra-S base oil is a base oil having a very high viscosity index(VI) that is produced through a hydrocracking, wax hydroisomerization and hydrofinishing process. This is a ultra-high purity base oil that has remarkably reduced the impurity and unsaturated aromatic content through a hydrotreating reaction over 2 times by using a MSDW-3(Mobil Selective Dewaxing) process, a cutting-edge technology of ExxonMobil Company instead of the traditional dewaxing process.
The Ultra-S base oil shows an equivalent level to PAO, a synthetic oil of classical concept, in quality really as a product that can be marked as a "synthetic oil" according to the verdict of NAD(National Advertising Division) in charge of reviewing advertisements in United States.
The representative quality properties of the Ultra-S base oil are as follows:
This is very high in viscosity index and very excellent in reactions to the liquidity reducing agent.
This is favorable for the production of low-viscosity engine oils through its outstanding low-temperature liquidity.
This is favorable for the production of long-lifetime lubricants due to its excellent heat/oxidation stability.
Product Lineup