Thanks to Ms Eliza from Cradle Fund, 12V was invited to Cradle Fund's office to give a short presentation. It was not a presentation to secure any million-ringgit funding. Nevertheless, it was literally an aromatic presentation with one of 12V's best-selling products- the California Scents Organic Air Fresheners.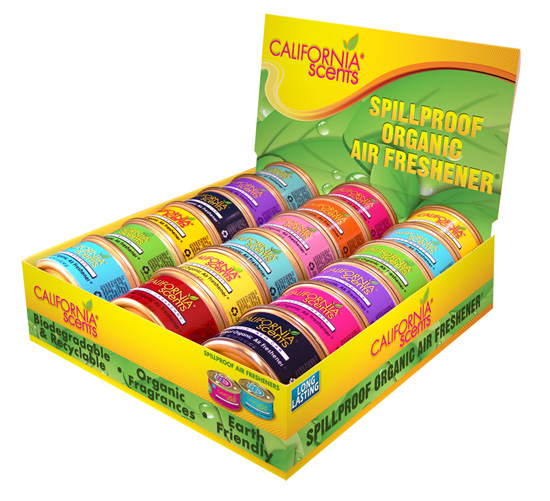 Ms Eliza said that she could only restock these air fresheners whenever she drops by Jakarta. Now that 12V brings these products all the way from US, more Malaysians drivers will now be able to enjoy air fresheners that is spillproof, organically healthy and friendly to the planet.
"Thanks to you… our office, cars & house smell really good! We look forward to place our orders again in the future."

Miss Eliza, Manager at Cradle Funds Sdn Bhd
These are the series of scents available under the California Car Scents, but not all of these scents are in-stock. Please check 12V's California Scents page for the stock's availability:
* Fresh Linen
* Laguna Breeze
* Monterey Vanilla
* Coronado Cherry
* Desert Jasmine
* Orange Squeeze
* La Jolla Lemon
* Shasta Strawberry
* Capistrano Coconut
* Santa Barbara Berry
* Gardenia Del Mar
* Newport New Car
* Napa Grape
* Golden State Delight
* Malibu Melon
* Palm Springs Pineapple
* Hawaiian Gardens
* L.A. Lavender
* Mojave Mango
* Citrus Splash
* Smoke Away
* Concord Cranberry
* Arctic Ice
* Squash Blossom
* Cinnamon Apple
* Melon Mango
Quoted from California Scent's website, these are the key initiatives behind the development of these products:
* Recyclability – Our products are packaged in recyclable materials to reduce waste. Additionally, many of our products and packages are made from recycled materials.

* Biodegradability – The fiber pads used in many of our products, including our core Spillproof product, are made from recycled plant refuse. This helps us contribute to waste reductions in the production process and allows the pads to degrade naturally reducing waste in the environment.

* Volatile organic compounds – Our products are made from organic fragrance oils that we produce within EPA guidelines.

* Non aerosol sprays – Our consumer Fragrance Spray, Citrus Spray and Pet Scents Odor Neutralizing products are all non-aerosol products which contain no harmful fluorocarbons.

* Organic – We produce and use organic, non toxic fragrance oils in our products providing our consumer with a safe and earth friendly product.

* Animal Friendly – All California Scents products are free of animal testing.
And with their kind permission, we have here the picture of the Cradle Fund beauties picking their favorite fragrance