As with all gadget upgrades, there's always the issue of 'backward compatibility'. Smart designers would make sure that their new upgrades would not break compatibility with its existing ecosystem of software and hardware, unless there's a VERY good reason to do that.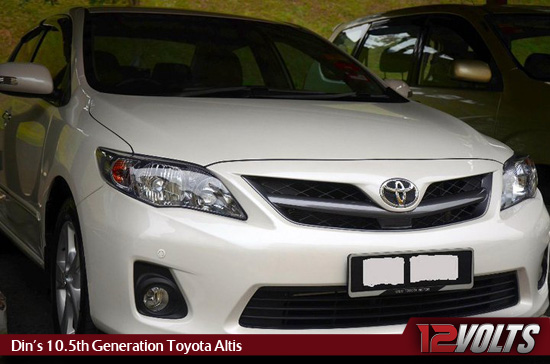 And with the newly introduced 10.5th Generation of Toyota Altis, we were anxious to find out if our existing Toyota Altis head unit would work flawlessly with it.
Here's a pretty comprehensive test-drive review by jayraptor over at Autoworld.com.my:
– iVTEC has mechanical valve timing actuators mounted behind the valves cam lobes. K20A in Civic has dual i-VTEC whereas the rest are SOHC engines for the CRV, City and Accord 2.0. More advanced tech when compared to generation 1 VVTi.
– Dual VVTi has hydraulic valve timing actuators in knobs mounted on the pulley of intake & exhaust camshafts. Dual VVTi defeated Honda's iVTEC for the 1st time.

—————————————————

I have just tested the Altis with 4 full size adults colleagues ranging from 5'5″-5'9″ tall + the salesman with belly at around 5'5″. Test unit available only the 2.0L. The 1.8E only for display. 1.6E not there at all. Now my review.

Price increased RM3k+ still acceptable for the new engines and gearbox. Vios & Camry facelift price increase are ridiculous since nothing more expensive added.

Engine:
The engines are tuned towards FC, having output/torque slightly higher than old VVTi engines (Check table below). Its output of 140hp@6200rpm with over rev technology is superb with CVT gearbox gives smooth revving. Torque being limited to 187Nm@3600rpm is big letdown. Wonder why can't they just leave it at 194Nm@4300rpm? Then no point buying the 2.0L if I can't harass Civic 2.0 owners, better stick to 1.8L. Pulling power is okay and 187Nm for today's 2.0L standard is considered low. Must be at least 190Nm above.

Performance & Handling:
Acceleration in the 10s range or better. While taking reading of its 0-100km/h, out of a sudden, an Iswara swerved onto my lane at far right wanted to overtake Wira in front without giving signal and yet struggling to overtake forcing me to brake and slow down. When comes to other colleagues' turn, it was closing lunch hour and the road filled with cars. 2 colleagues cancelled test drive.

Power is good but torque just normal. At 2000rpm (confirmed) can reach 80km/h, at 2400rpm get 90km/h then 2700rpm gets 100km/h, dunno at what gear because no indication. No lag but pulling power feel is just like driving normal 2.0L. Only acceleration is good.

Handling has improved over the old Altis. More stable cornering probably that is why the kerb weight has increased by more than 20kg (1.6L & 1.8L). Not much chance to try hard corner but at least get to do some normal cornering at 80km/h. Seems stable with the 2.0L.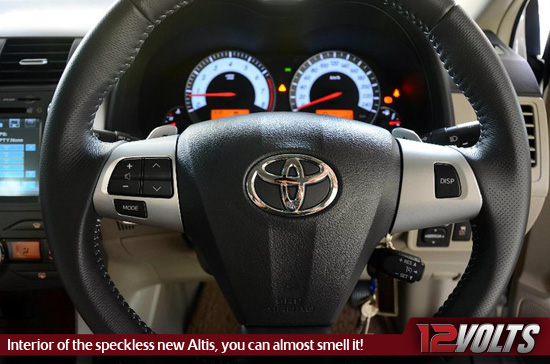 And we were glad that with all the major changes the Toyota engineers implemented on the new Altis, much of the 'compatibility' remains intact. The wiring and sockets for the head units was left as it is, saving lots of headaches over owners who are afraid of voiding warranties if they decided to upgrade their in-car receivers.
Next in our list is the steering control features. And thankfully, the engineers decided not to overhaul it- which makes our existing Toyota Altis head units controllable directly from the steering wheels, just like the original stock unit.
Din, one of our customers who recently installed our head unit on his 10.5G Toyota Altis shared with us his snapshots of his dashboard, after installation.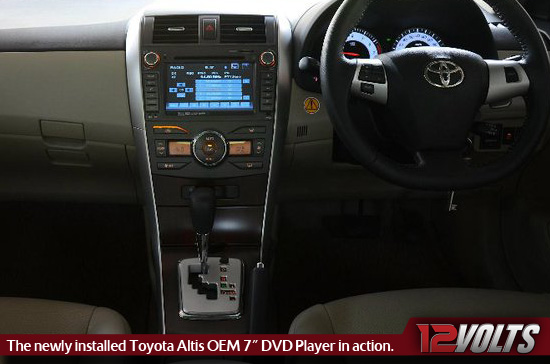 So, it's a great relief that new 10.5G Toyota Altis owners will be able to install this unit (with or without PowerMap GPS) without any issues.
Once again, thanks to Din for sharing with us his post-installation pictures!