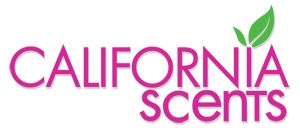 You see, I've better things to do today than writing a guide on how a can of air freshener smells like. I got a coffee mug on my table that I should have washed last week. I should probably water the potted plant (souvenir from a workshop I attended 3 months ago), but looking at the state of the plant, it's probably better to just discard the whole pot. That's the reason people like me should never have pets.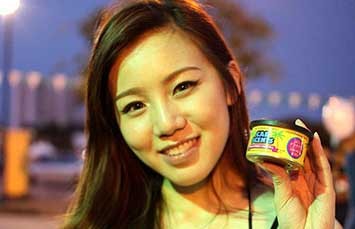 Okie, let's get on with the guide. I got too many people asking me to recommend which fragrance is the best. I could easily tell them which ones I sell the most, but that's not going to be truthful simply because smell preference is as unique as the way you like your nostril hair to be trimmed.
While it's impossible to describe scents using mere words, I shall try to attempt to at least describe the various fragrances by relating them to something familiar around us. So, if you still don't get the smell after reading, do not worry: just buy a can and you'll find out exactly how it smells like.
The whole idea I am writing this is to spare you the trouble of spending money on fragrances that you might not find pleasurable to your olfactory senses. At the time of this writing, each cans only cost about RM16.50, so it's really not a very expensive investment to discover the scents that you truly dig. Granted, there's more than 30 scents to choose from.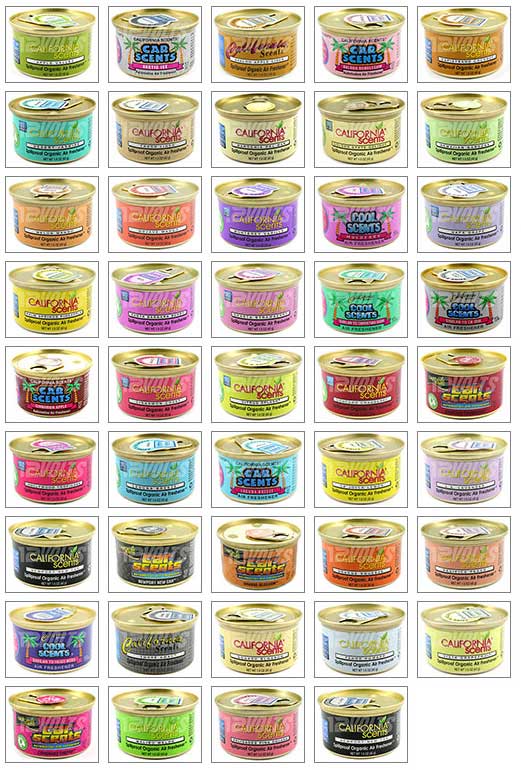 First of all, I categorize all fragrances into 3 main groups:
1) Fruity – Fragrances emitted under this category would mean that they originated from fruits. Fortunately, we don't have durians.
2) Flowery – Likewise, the fragrances originated from flowers.
3) Perfume-like – These fragrances would give a more synthetic experience, similar to our experiences with perfumes.
Also, the Strength of the fragrance are rated from 1-10, with 10 being very strong and 1 least strong. That being said, strength here does not means durability, as most fragrances can last up to 60 days under normal conditions.
The number in the brackets indicate the Strength.
1) Fruity
Apple Valley (5)
Avalon Apple Cider (6)
Balboa Bubblegum (7)
Capistrano Coconut – reminder of sunny beaches and vacations. No, they don't smell like Nasi Lemak. (7)
Citrus Splash (6)
Concord Cranberry (6)
Coronado Cherry – some say it smells like syrup. One of the best-sellers. (8)
Golden State Delight (7)
La Jolla Lemon (4)
Malibu Melon (4)
Melon Mango (4)
Mojave Mango (7)
Napa Grape (5)
Orange Blossom (6)
Orange Squeeze (5)
Palisades Pina Colada (6) – somewhat similar to Capistrano Coconut, slightly milder. Reminder of your vacation is ending.
Palm Springs Pineapple (5)
Santa Barbara Berry (6)
Shasta Strawberry (6)
Squash Blossom (5)
Vista Grapefruit (4)
2) Flowery
Cinnamon Apple (4)
Cinnamon Coast (5)
Desert Jasmine (6)
Gardenia Del Mar (6)
Hawaiian Gardens (4)
L.A. Lavender (5)
3) Perfume-like
Arctic Ice (4)
Fresh Linen (5)
Hollywood Tropicana (6)
Laguna Breeze (7)
Newport New Car (7) – One of the best-sellers. But please take note- it doesn't turn your car into one. You have better chance with our range of car care products.
Smoke Away (6)
Tahoe Powder (5)
As this is just a general guide, please do not hold me responsible for any dissatisfactions you may experience after you've tried them. Same reason why food reviews are just that, reviews. The chances that the food reviewer having the same taste bud as you is probably one in a million. So, what may taste nice to him does not necessarily means it's universally accepted as delicious. Same principle applies to this California Scents Fragrance Guide.
This brand of air fresheners are well-loved all over the world. They are made by environment-conscious folks and they care about their consumers with their investment into Envirokleen certification for a few of their product lines. You can also read about what Chris Davies from CarPoductsTested.com wrote about these wonderful little fragrances.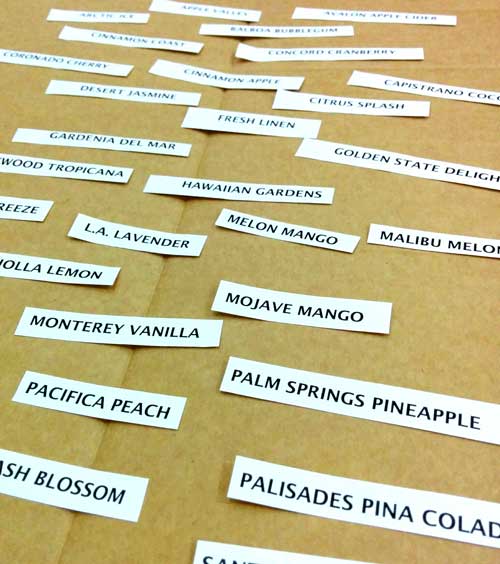 That's about it for now. I shall continue to edit this article as I get more feedbacks from Malaysian customers.
And if you are wondering where you can buy California Scents, head over to http://www.fasmoto.com/california-scents-air-freshener